"BabyFace Caterpillars"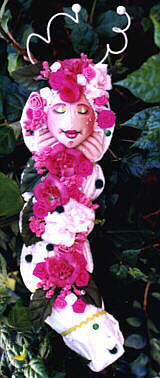 I have always loved the creatures living in my gardens. Among my favorites are the caterpillars and butterflies that sleep and play among the leaves and flowers. In recent years, they have become my favorite theme in dollmaking, not only because of their beauty, but because their metamorphosis reflects the many changes that have taken place in my own life.

This unlimited series of different types of baby caterpillars includes resin and cloth versions in 8-inch and 12-inch sizes and a 4-inch pin doll. I am currently developing patterns and do-it-yourself kits of this sleepy little darling which will be available in early 2000.

Currently, the pattern for the 8-inch cloth "BabyFace Caterpillar" is included with the "Hydrangea" pattern. A separate pattern for the Babyface Caterpillars will be available soon.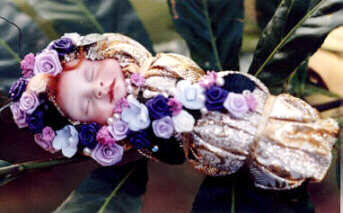 "Gentle Metamorphosis"
She's been asleep, forever it seems
And as she sleeps, she always dreams
Of gentle breezes, warm and soft....
And feather-light, she's held aloft

On wings so delicate and so light,
But still, she sleeps on through the night
Not knowing that her wings have grown
With beauty that is hers alone.

Among the leaves and flowers she stays
And short-lived are her caterpillar days.
Now....while she sleeps on through the night,
Her wings prepare to give her flight.

So when she wakes in the morning dew,
Her life will begin again anew.
Her cocoon will be shed, she'll aim for the sky,
As a beautiful newborn butterfly.

-Anne-Marie Brombal © 1999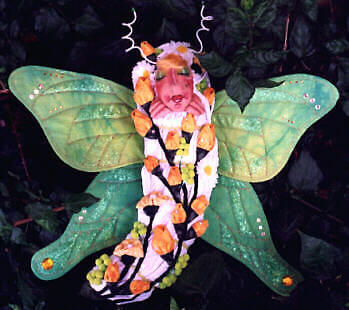 This very special Caterpillar was made in cloth and decorated with fabric origami roses.
What makes her unique is the fact that she has wings, but she doesn't seem to notice yet!


The Many Faces of the BabyFace Caterpillars
The BabyFace Caterpillars are made in a variety of media. The all-cloth version is handpainted, while the resin-faced version is reproduced from an original sculpt. Initially made in polymer clay, I made a mold using silicone rubber and now pour the faces using a high-quality flesh-colored resin. These faces are then painted and sealed, once the resin has hardened.
| | |
| --- | --- |
| An aboriginal caterpillar | A caucasian caterpillar |
| An African-American caterpillar | An Oriental caterpillar |